Pages of this tutorial
I splitted the tutorial up in several pages.
Trick 1: pull the starting circle through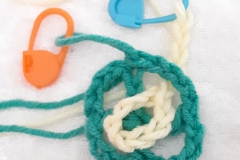 This is how it looked when you did row 1 for this pattern. You put the yellow starting square on the green dc's first and then you closed the row, while putting the yellow to the back.
---
You can also do it this way: you first make the 2 bases with color 1 and 2. I crocheted the first 4 chains of the next rows for both of them, so that you can see it a bit better. Now take the circle of color 2 (here in lime green) and pull it through the corner right of the beginning dc. Voila, same result. This is a trick for the first dc of color 2 (lime) when it has to get TO THE BACK. If the first dc has to be in front, you will simply put color 2 on top of color 1!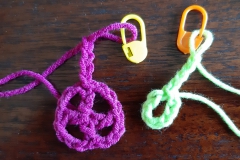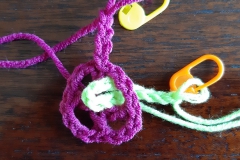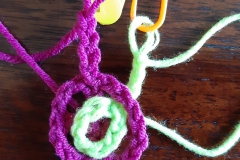 ---
Trick 2: use stitch markers for the corners (row 2)
With the yarns I used here for the tutorial it is fairly easy to see how to make the corners of row 2. I worked with a thinner and dark yarn one time, and it was a bit difficult to see. I then used some stitch markers to mark the corners.
Important: This is for the situation that you have to do the dc's at the back. If you have a pattern where you have to do the dc's in front, you can still use the same trick, but in that case you make the dc's in front (the first 4 chains will be at the front in that case, unless you have a asymmetrical pattern).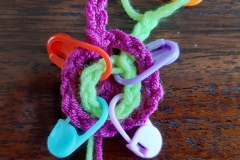 Here you see I marked each corner with a stitch marker. The place where the purple stitch marker is, is the corner where the first 4 chains of the lime green are already made.
---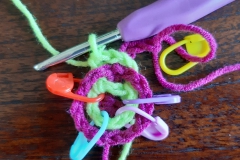 Now do a dc in the back in the corner with the red marker.
---
Next make the corner chains and do the second dc in the back, again at the red marker. You can now remove this marker.
---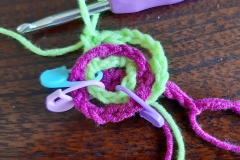 Make a chain and the first dc in the back in the corner with the blue marker.
---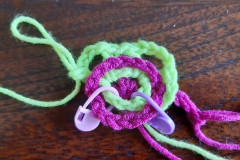 Make the corner chains and the second dc in the back in he corner with the blue marker . In the picture this marker is already removed.
---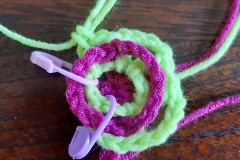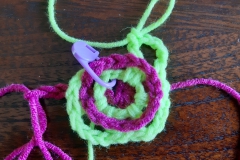 Do the same for the next corner.
---
When you have come to the last corner (with the purple marker), you will only have to do the last corner dc and of course the 4 corner chains. The first dc is already made by doing the first 4 chains that you made at the start of the row.
---
Click here to go to the tutorial on how to attach the blocks to each other.