Welcome to the Hooked and Locked CAL 2018 (HAL CAL 2018)
---
<Edit January 16 2019: The pattern is no longer available for free. You can buy it from my Ravelry shop (https://www.ravelry.com/patterns/sources/the-craftsteachers-ravelry-store). You can find the bonusweek pattern there also. The pictures for each row (see examples on this page here) are no longer available online. Please send an email to info@thecraftsteacher.com if you want to purchase them. >
---
Welcome welcome welcome! Nice to see you here! I really hope you will enjoy it to join!
For the ones who don't know what CAL means: it stands for Crochet ALong, simultaneously crocheting on a project with a group, and where parts of the pattern are published weekly. On this page you will find some general information, and you will find the links to the pages where the pattern will be explained, and the timeschedule I will follow for publishing the parts of the CAL.
This CAL is available in both Dutch and English, you can read more about that further on this page!
The source of this CAL
The Hooked and Locked CAL is made with a technique that is called interwoven or locking crochet. This is a technique where 2 meshes of filet crochet are woven through eachother, while crocheting, so that you can create beautiful 2-sided motifs. The back can look very much the same, or look totally different, that's the fun part of it! I got in touch with it when watching a Craftsy class on these free watching days they sometimes have, where this was shown shortly. It fascinated me, and I started looking on the internet what I could find about it. I so loved what I found, that I started working with it myself. And the ones that know me a little by now, know what happens with me. I first learn something from another, then I start looking at it with a 'magnifying glass', and thinking if it can be done differently, or, very perky…., better, if I would take a different approach, and what I can change. And I also start thinking how I can learn this to others, in my way that is.
And…., and maybe I secretly find that the most fun part, how could I create patterns myself? How is this done? And then I take my notepad, my pencils, and next I start coloring, trying it out, trying it out again, until the coin drops and that AHA!-moment is there. And then the gates of creativity will open.
How did I get that name???
Well, how do you come up with a name? Hehehe, if I knew that! This just popped up in my head. Of course I had a vague idea of what I wanted to be in the name. I wanted to have the interwoven- or locking-idea in it, and the fact it's crocheting. So I came to 'Locked' quite quickly. If you google the meaning of 'Locked', you will find this definition: 'fastened or secured with a lock'. And that is actually what you do with interwoven or locking crochet, you let the posts of the 2 layers of filet crochet grab into eachother, by which the pattern will be locked. And 'Hooked'? This also has different meanings. It is often used in the context of crochet. 'Hooked' also means captured, so it overlaps with the meaning of 'Locked'. And 'Hooked' also means addicted. I will not ever think lightly about a real addiction, but interwoven crochet could become something you will really love to do. And together I thought it sounded quite catchy. Short and easy, and if you want to abbreviate it to the HAL CAL it sounds even easier, doesn't it? So I liked it 🙂 .
General information
Today is the kickoff, where I will share some general information and get you to work.
The Hooked and Locked blanket we will be making has a size that is wide enough to put it around you and long enough to cuddle under while taking a nap in the afternoon. That is, if you have my length 🙂 . For now I made 1 version of the blanket, with Alize Cotton Gold. The Cotton-version is about 120 cm wide and 168 cm high.
Yarn info Alize Cotton Gold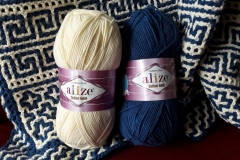 I used 2colors of Alize Cotton Gold:
800 grams of color 1: Dark jeansblue, color number 279
800 grams of color 2: Offwhite, color number 01
Alize Cotton Gold is made of a combination of 55% cotton 45% acrylics. I used hooksize 4 mm for it.
---
What do you need besides the yarn?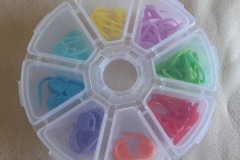 Stitch markers! Preferably in several colors. I have a fun set of 8 colors in a handy little box, and that's enough.
---
Practice piece
You do not need to make a practice piece just for getting the same size as mine if you use the same yarn I used. You really have to stick to the pattern for this design. It's a kind of counting pattern, so every alteration you would like to make, has consequences for the upper parts of the design. If you choose to use a different type of yarn, the size of your blanket will just be different. Also if you use another hook size, or if you crochet more loose or more tight than I do, you will just get another size.
There is 1 thing that is very important: use a hook that gives you a loose structure. If you have a tight way of crocheting, try a larger hook size. If you already crochet loosely, check if it's loose enough.
But, take the time and do make this practice piece, for a couple of reasons.
As I already told, you have to check if the result you get with using the interwoven crochet-technique will be drapy enough with the hooksize you use.
And to check if the size is about the same size as mine, and this is especially for if you use another type of yarn. This way you can estimate how much yarn you will need in the end.
Another reason is to learn the technique before starting the big piece.
What I will give to you
Website
For each part I will make a separate fixed page on this website with descriptions, photo's, pattern charts, downloads and the links to the video's on YouTube. I do everything in both English and Dutch. You can switch over to my Dutch website if you prefer that: De Handwerkjuf (click the link).
I will also be making blogs to introduce each part. You can leave comments there and ask questions.
YouTube
On YouTube I have an English channel (The Craftsteacher, click the link) and a Dutch channel (De Handwerkjuf, click the link) where all the video's will be published. If you subscribe to my YouTube channel (or channels), you will get a message when a new video is published.
Facebook
I've made facebook groups for this CAL. For English: https://www.facebook.com/groups/HookedAndLockedCALEnglish/ and for Dutch: https://www.facebook.com/groups/HookedAndLockedCALNederlands/. You can ask questions there, so others can help you, and of course you can help others by answering their questions. I will also be there a lot for help. I will also announce there when a new part is published. You can also show pictures of your version of the blanket there.
Release schedule and links to the pages
I will publish the parts on thursdays. Click on the links with each part to go to the page with explanations and materials. The links will be added as soon as the release date has arrived.
The following parts are no longer available for free. See the information earlier on this page how to purchase the pattern.
September 27 2018: part 2, crosses
October 4 2018: part 3, Greek meander
October 11 2018: part 4, hearts
October 18 2018: part 5: waves
October 25 2018: part 6: mailboxes
November 1 2018: part 7: sunshine
November 8 2018: part 8: little fishies
November 15 2018: part 9: diamonds
November 22 2018: part 10: little cars in a traffic jam
November 29 2018: part 11: butterflies
December 6 2018: part 12, towers with antennas
December 13 2018: part 13, apples and top border and the surrounding border
December 20 2018: bonusweek for the leftovers, Als de lente komt, dan stuur ik jou tulpen uit Amsterdam(Dutch song)
And further
I'm wishing you a lot of fun making this!
---
Disclaimer
I do this voluntarily. I do not own a company and do this all by myself. My dear husband is doing the camerawork and edits the video's, I do the rest. So I don't have a co-administrator. If there unexpectedly would be a reason that I cannot finish this CAL after it has started, then the entire pattern will be available, so you can still finish your blanket. I have taken steps with another party so that you can get the entire pattern there. This person will announce it in that case.
It could also mean that I cannot follow the release schedule and that there is a delay. Everyone can think of personal situations that can cause this. I took care in advance that all materials (like patterns, webpages, video's) are available, so that an eventual delay will be kept to a minimum. So I prepared this very seriously and do not take this lightly, because this is also important to me. I do my utmost best to make this a huge success for you also.