Welcome to the Hooked and Locked CAL 2023 – Framed (HAL CAL 2023)
---
This is the page for the interwoven crochet version! You can find the info for the mosaic crochet version here: click here.
---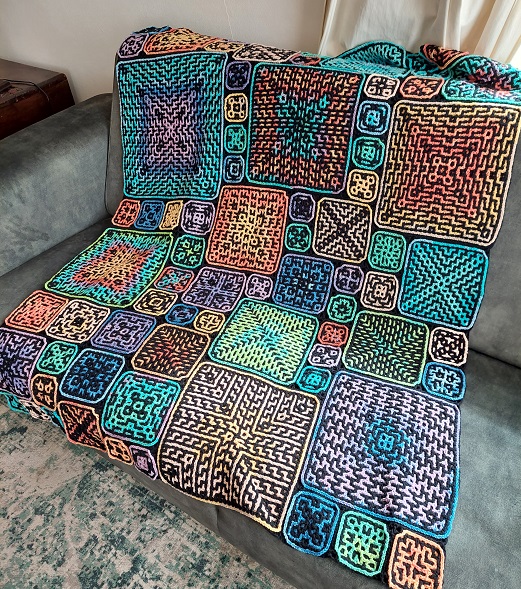 Introduction
YAY! Another CAL! It's always exciting to do a new one. It's been a lot of work again, since I crochet everything myself, and I made lots of videos for the tutorials (which always takes me way more time than I think), but it was fun!
In the previous CALs I've tried to do something special each time. I've done one with the Log Cabin technique (click here) that was special because we built up the blocks from the middle. My previous CAL was done with the solid squares technique, with 'filled' squares (click here), which offered more possibilities to play with the 'intensity' of the colors in a design.
This time it will be a blanket that is built up by making squares in the round, that you will join on the go.
Click on the picture to see it in full. The colors are even more beautiful in real life. This is actually the small version of the blanket.
---
Stunning back!
One of the main benefits of doing interwoven crochet is the back of your work. For 'non-pictorial' designs it is super nice! And with this blanket even more! Because all the blocks are made separately and then crocheted together, the effect is so beautiful on the back as well. You don't have to do something extra. Crochet once, twice the fun!
See for a picture of the back further on this page.
---
A lovely summer project
Of course, you can do this project any time, but when it's hot outside, it's not always very nice to work on a large blanket. With this blanket you will work on each block separately, and you will only crochet it together with the rest at the last row, so you will have the whole part on your lap for just a moment.
---
Blocks from my e-book series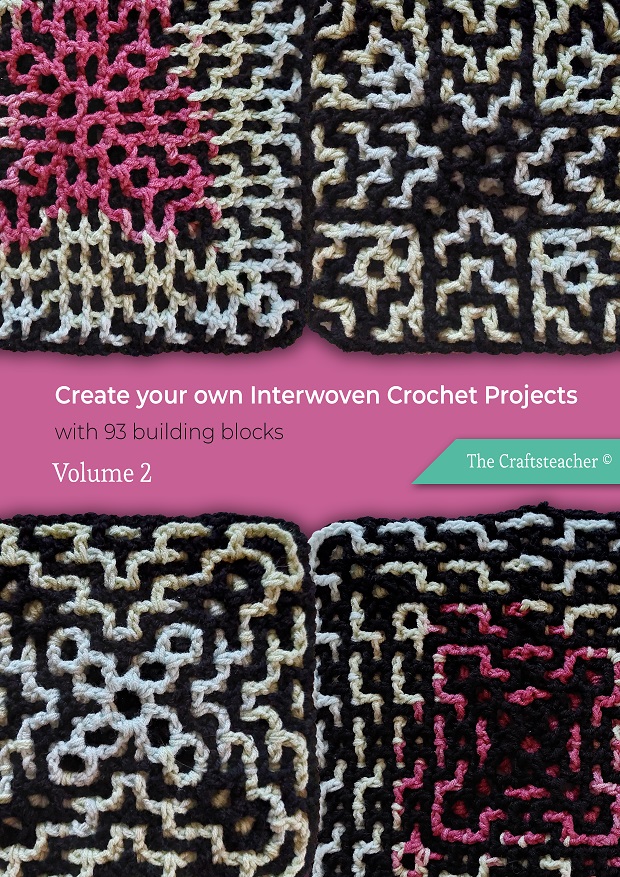 A while ago I published an e-book series: 'Create your own interwoven crochet projects' (read all about it here). These e-books contain 53 'bottom to top' designs and 40 square designs each.
After publishing my e-book series, I actually wanted to do a bit more with the designs that are in it. I wanted to create something to get you started designing your own projects, based on the blocks in these e-books. To inspire you and show you the possibilities. In the e-books you find samplers for the bottom to top designs, but for the square designs I didn't do this. It's actually very easy to think of something with them, but I wanted to take it a bit further and make it more fun, by creating a design where front, back and the reversed versions were combined, and also spice it up by making different sizes of blocks. It's so wonderful to see the beauty of the effects when you use just a tiny bit of a pattern, or do a really large version, and sizes in between. You will be surprised how different the versions of 1 block pattern can all look!
So I decided to take a couple of patterns from each e-book, and started playing with them. This resulted in a new design, and I decided to make it a CAL, this CAL 🙂 . Btw, you don't have to buy the e-books if you don't want to! All patterns that you need will be in the pattern files.
---
Fully adjustable!
I've created a design that is built up with blocks in 11 different sizes. The blanket is constructed by making 5 layers on top of each other. After you have done the first 3 layers, you will have done all 11 sizes. The top 2 layers are made up by using the block sizes of the previous parts, but in a different setting and using the 9 patterns in different sizes.
You can change about 'everything' with this design 🙂 . If you want to make a blanket with blocks that are all the same size, you can do that. If you want to change the positioning of the blocks, you can do that (within the limitations of what can be combined, but you will understand this when you have seen the charts). You can make the blanket wider, smaller, higher, shorter. Yes, you will need to puzzle a bit, but it can be done!
Extendable with more patterns or larger versions!
Like I said I used blocks from my e-books. I took 3 from each e-book. The block patterns are not used fully like in my e-books. And not every block pattern in this CAL is available up to size 11. Let's say you have pattern A, and the max size that is used in the CAL is size 4. You will then only have the pattern until size 4. Suppose you would like to use pattern A for a size 6 block. Well, then you have to get the e-book where the pattern came from.
And to make it even more fun you can use more patterns! By replacing some that are in my design. Then you will also have to get one, two or all e-books. Instructions on how to use it in the CAL with the 'frames' around the pattern will be provided with my e-books. It's really super simple!
---
The technique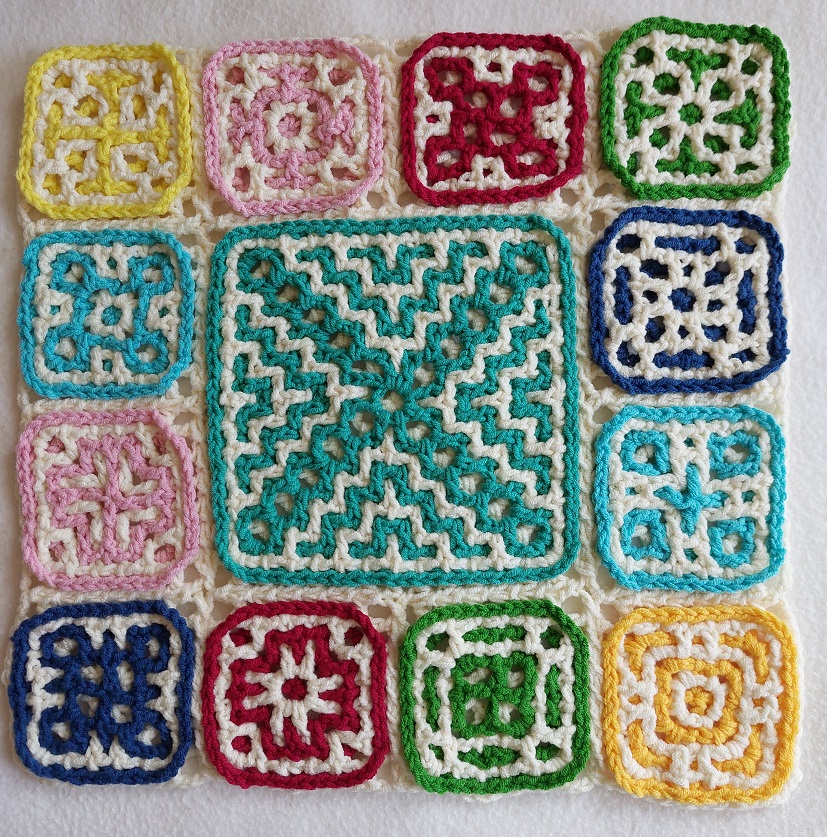 I assume you already know how to do interwoven crochet. If you're new to this, then first follow the tutorials that are available on this website with the accompanying videos. Click here for the startpage for super beginners. Or see the menu under Crochet, Crochet tutorials, Interwoven or locking crochet.
To learn you how to do this in the round technique, I created a sampler where all the possible start situations of the blocks are covered. I created videos for all of them, and also how you can crochet all pieces together on the go.
You can find the pattern and the links to the tutorial videos on this page: click here.
---
In 2 languages: Dutch and English
The pattern for the blanket is available in both English and Dutch. Go to https://www.dehandwerkjuf.nl/ for the Dutch version.
---
Yarn usage
Pay attention: this information is for the interwoven crochet version!
For this blanket I used Alize Cotton Gold, Solid and Batik. If you want to use different colors, then choose colors that have a good contrast. Use one color overall for the background. I used Alize Cotton Gold black.
De Wolman will offer packages with different alternatives for the batik colors. See further on this page for the info!
Overview of the batik colors I used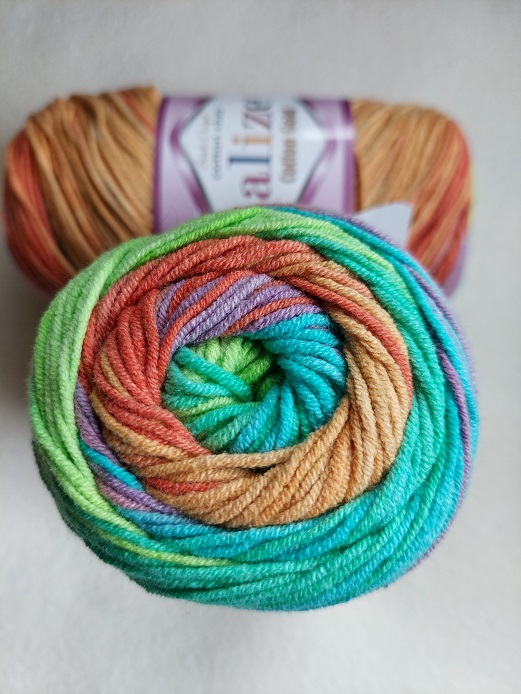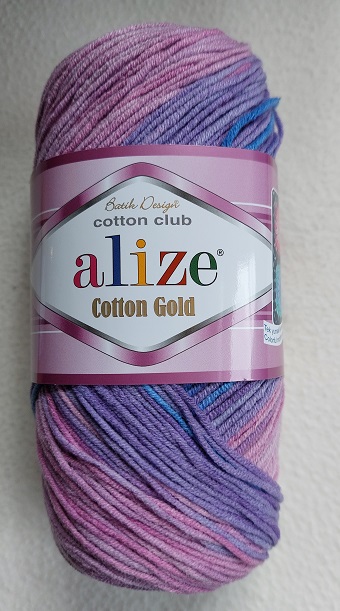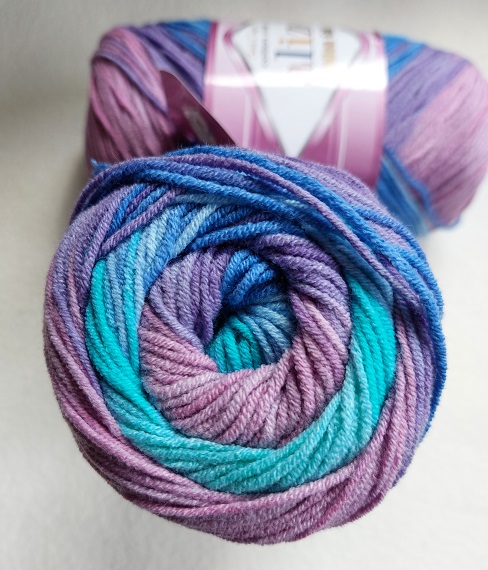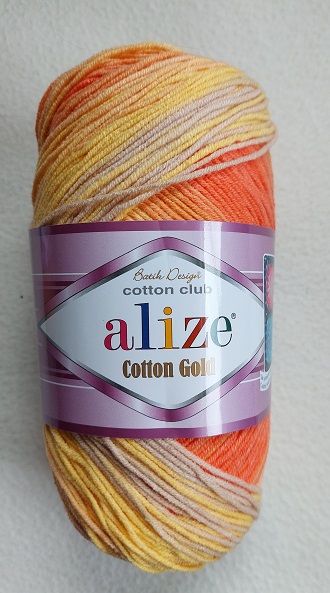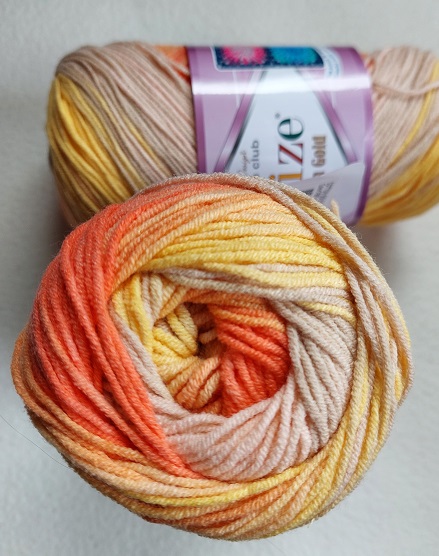 ---
The small version
For the small version I used 2 balls of each batik color:
Alize Cotton Gold Batik 4530, 4531 and 7687.
I used 7 balls of Alize Cotton Gold Black 60.
The size of the blanket is about 130 cm x 110 cm.
---
The large version
For the large version you need 4 balls of each batik color:
Alize Cotton Gold Batik 4530, 4531 and 7687.
You need 12 balls of Alize Cotton Gold Black 60.
The size of the blanket is about 130 cm x 210 cm.
---
The usage for the practice piece is included. Do take 1 extra ball of white if you don't want to reuse the blocks for the blanket!
The balls are 100 grams and have 330 meters working length. It is a 55% cotton and 45% acrylics mix.
I used hooksize 4 mm.
Please do the practice piece first, to check your yarn usage.
Note Well With these amounts of yarn you will have enough to do 'cherry picking'. I 'tweaked' picking the colors of my blocks by sometimes skipping parts of the batik yarn, to get to the place I wanted to be. I have specified how much yarn each block uses for each color in the pattern files, so you can make an 'educated guess' how the colors will look eventually. For the blanket you will surely have leftovers, but this is a creative process in which you decide which batik color you will use for which block. This could mean that you will use up almost everything of one batik color, but will have quite some leftovers of another color. The given amount of yarn gives you enough freedom of choice to your taste, but do keep an eye on the usage. Simply make a nice set of cushions or a baby blanket from the lefovers. When you've done the CAL you will see how easy it is to combine blocks yourself and create your own design.
---
What I will give to you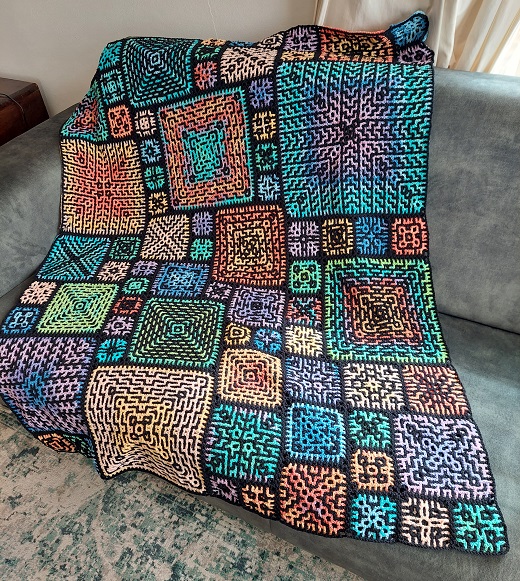 Website
I have the patterns of the blocks that are in my practice piece on the website as a download. They will stay here after the end of the CAL!
YouTube
On YouTube I have an English channel (The Craftsteacher, click the link) and a Dutch channel (De Handwerkjuf, click the link) where all my videos are. For this CAL I made separate playlists for all the videos: see all the links on the practice piece pages.
Please subscribe to my YouTube channel (or channels), and check that bell, so you will get a message when a new video is published. This really helps me enormously. And if you like a video, please give it a thumbs up, this way you can show your appreciation for the work I put into it.
Facebook
I have Facebook groups that I also used for my previous CALs. For English: https://www.facebook.com/groups/HookedAndLockedCALEnglish/ and for Dutch: https://www.facebook.com/groups/HookedAndLockedCALNederlands/. You can ask questions there, so others can help you, and of course you can help others by answering their questions. I will also be there for help. I will also announce there when a new part is published. You can also show pictures of your version of the blanket there.
---
Availability of the pattern
During the CAL the pattern parts will be available for free. The patterns for the practice piece can be downloaded from the website and will stay there also after the CAL, because it also serves as a tutorial.
May I kindly ask you to consider this?
Before I continue how you can get to the pattern for free, I would like you to think of this. I've spent a lot of time creating the pattern and everything that comes with it. I don't have yarn deals with yarn suppliers or things like that. So when you use the pattern, please consider buying it. When you take in consideration how much you spend on the yarn, or a bottle of wine, or an evening out to the cinema, and how much fun time you will have when crocheting, then think of the designer 🙂 .
Free through the newsletter
To get all parts for free you need to subscribe to the newsletter of The Craftskid (click here). You will receive a new mail every 2 weeks with a link to the place where you can download the files. The links in the newsletter will only be valid for two weeks, because we want to prevent as much as we can this will be shared on the internet outside of the newsletter. Did you forget one mail? No problem, because the new place where you have to download the next part will also have the files of the weeks before. So keep an open eye on your mails and check your spam folder!
The advantage of subscribing to the newsletter is that we will also be sharing our discount codes that way, or other news, like the release of our new patterns. Discount codes will not be shared anymore through Facebook or other channels. The Craftskid (my daughter) and I are very holding back with sending mails (because we really do not like if companies send us an email each day!), so don't be afraid your mailbox will be filled with our mails.
After the duration of the CAL the downloads will still be available for a while for free, but I will remove them July 14 2023. After that the patterns will only be available on Ravelry at the regular price.
Paid pattern
This pattern can also be bought on Ravelry: click here. There you will get the entire(!!!) pattern right away, so you can make the blanket full speed :-). During the CAL this will be offered for a highly reduced price. The discount code will be sent to you in the newsletter (click here).
If you buy the pattern, then I would like to ask you to wait with showing your pictures on Facebook until the ones that joined for free also have come to the point where you are. So, for example, only post pictures of your blanket that is done to layer 2 until I have released that part.
Free with the purchase of my e-books
If you decide to buy one or more of my e-books, you will get this pattern right away for free. Also if you have already purchased an e-book earlier. Log into you Ravelry account and just simply add it to your shopping cart. Ravelry will then see that you've purchased an e-book and will not charge you. During the CAL my e-books will be offered with a discount as well. Please pay attention: when using the discount code Ravelry cannot use that and give you the CAL pattern for free as well if you put everything to your shopping cart right away. So first buy one or more e-books using the discount code, pay, and then add the CAL to your shopping cart. In this case Ravelry won't charge you for the CAL.
Combination with the mosaic version
With my other CALS I offered the mosaic and interwoven version separately on Ravelry. This time I will offer them together. This has to do with the fact that I cannot give you the information for the yarn usage right away with the release of the interwoven version. I simply have to test much more for this, so this will come later. I didn't want to wait with the release of the CAL any longer.
All pattern charts and descriptions will be delivered right away, so that you can start if you want to.
Don't loose your files!
I've seen with the previous CALs that people lost their downloaded files, and for a while I offered the parts on request. I will not do that anymore because of the growing number of participants, so please don't loose them! Put it on your computer in a place where you can easily find them, or save them in the cloud, like on Google Drive, on OneDrive or in Dropbox.
Packages from van De Wolman
I always buy my Alize yarn from De Wolman (see his website here), and I already shared with him the first parts of my blanket early on. This made him quite enthusiastic, and he wanted to make packages with different variaties of the batik yarn. They are super fun! He offers these packages with a discount: you need a code for that that will be shared in my newsletter, so subscribe here. The discount code will be sent in the first newsletter when we start with the practice piece.
De Wolman delivers internationally!
NB: De Wolman is having a short vacation! He will be back by Monday May 1, so he will start delivering then again.
Click on the pictures to see the colors of the batik balls better.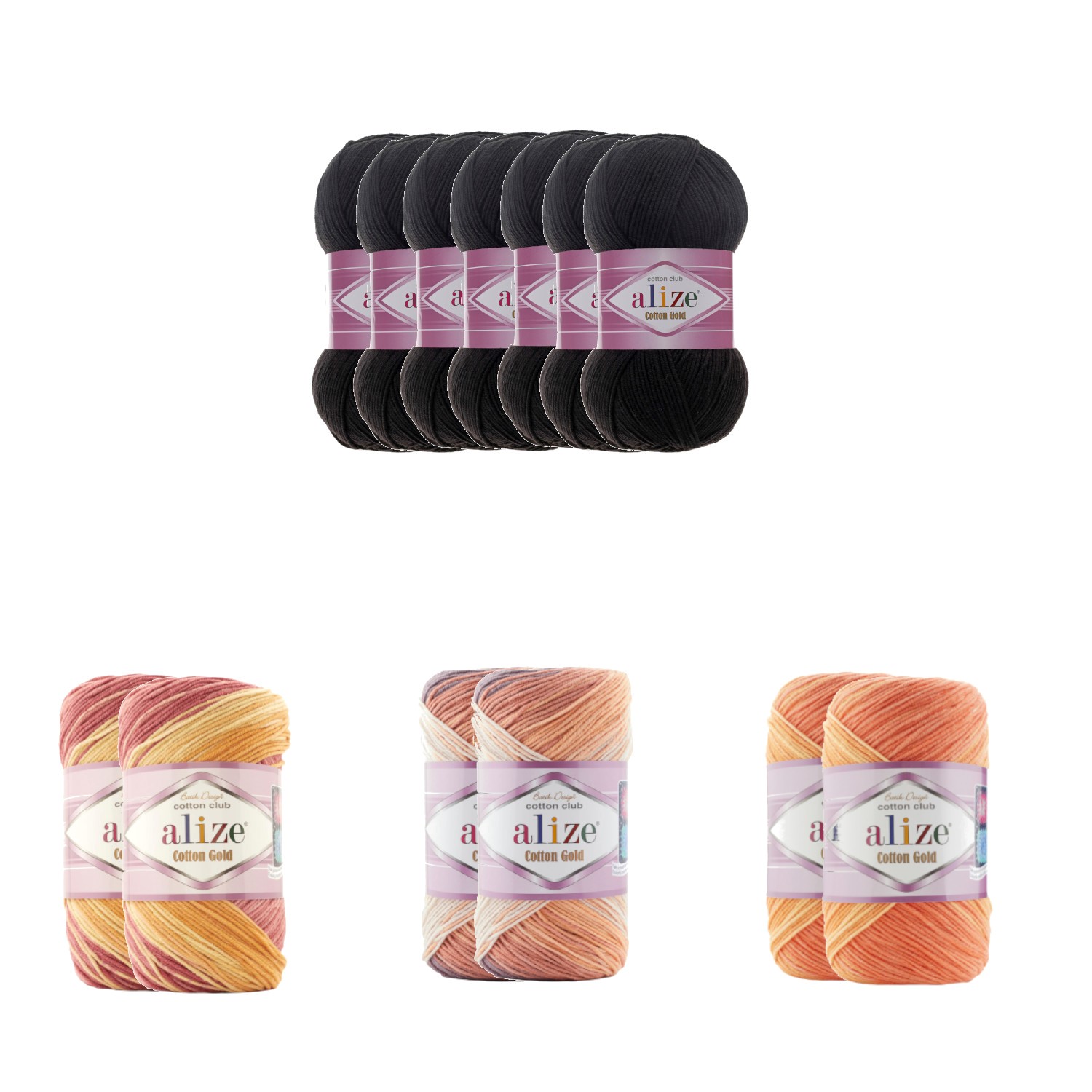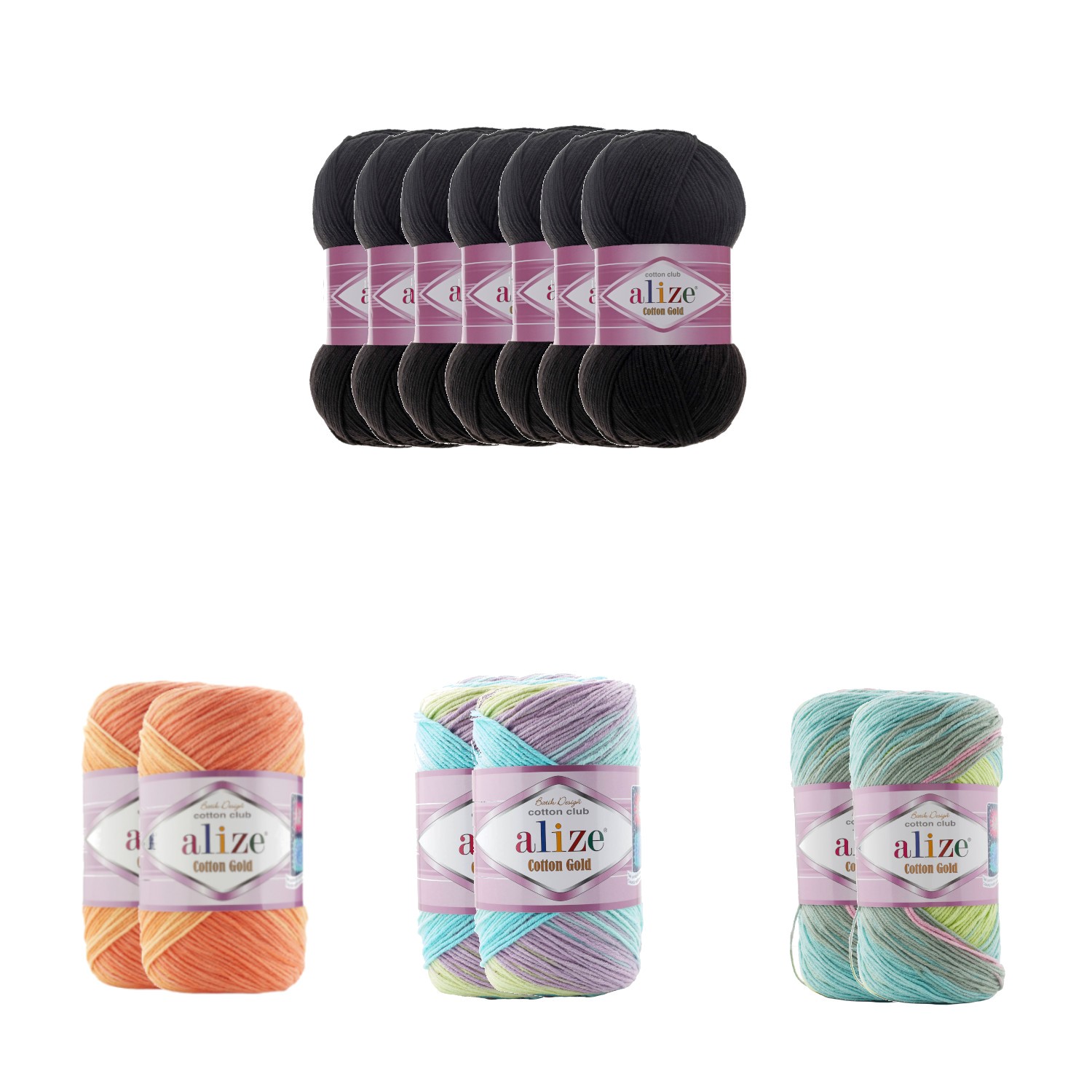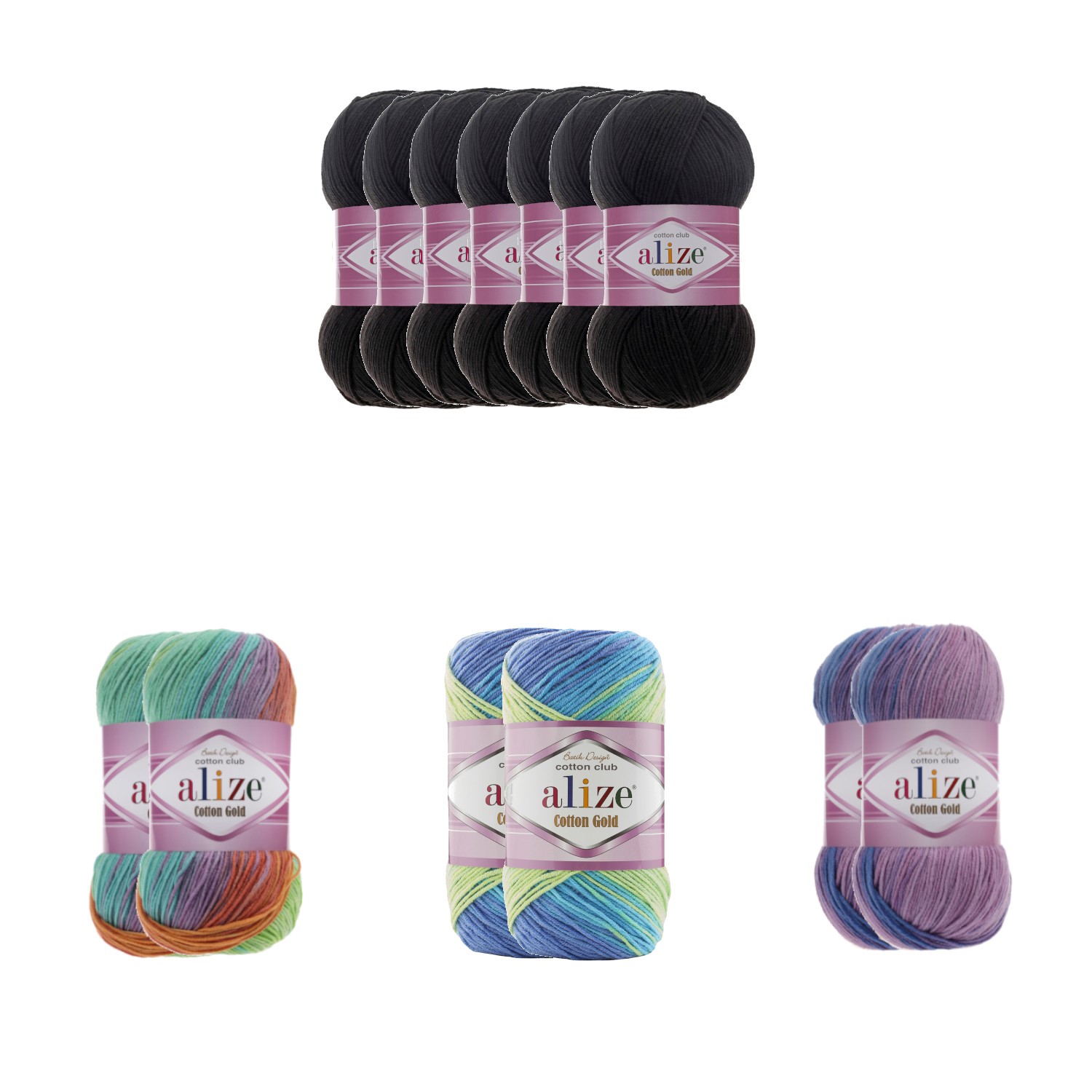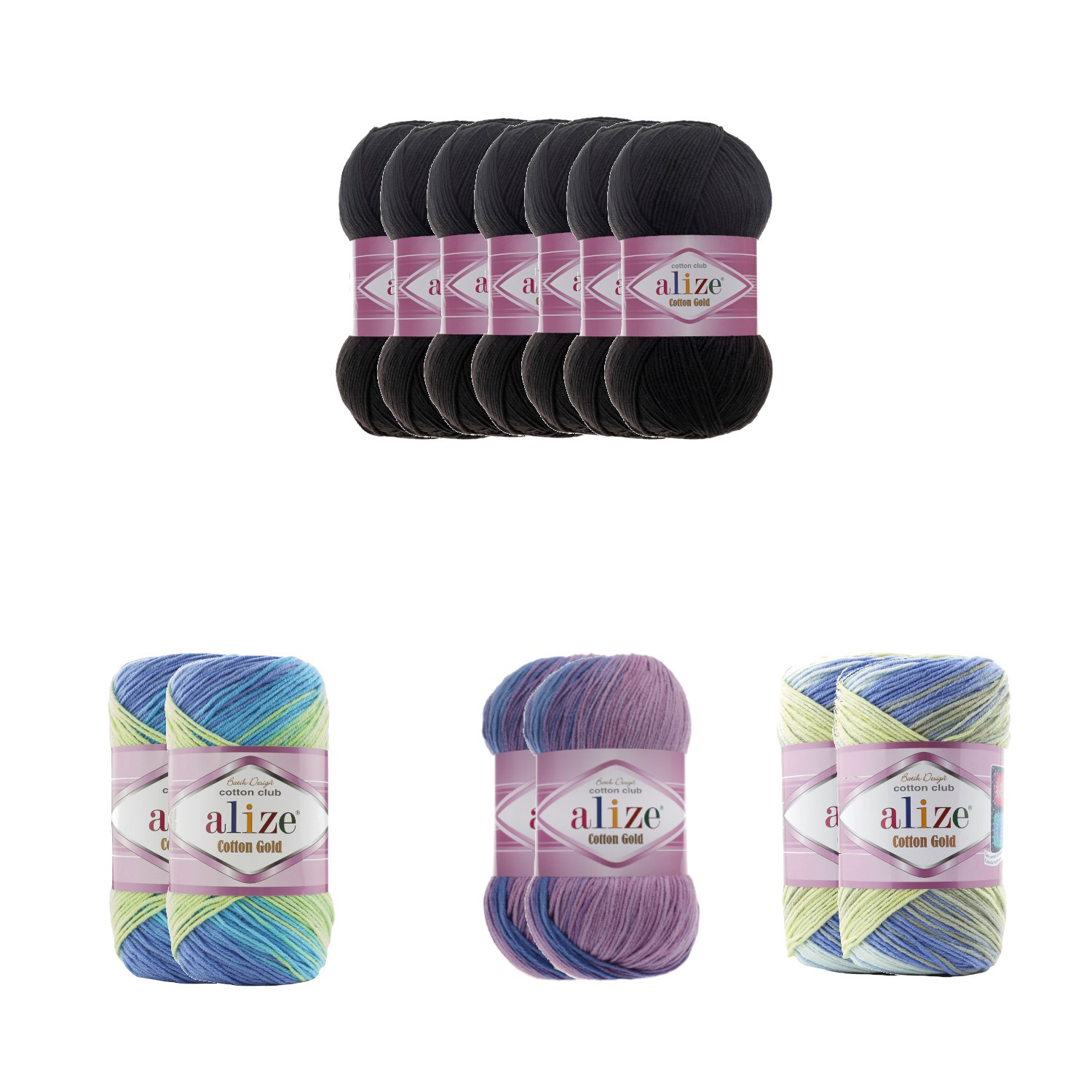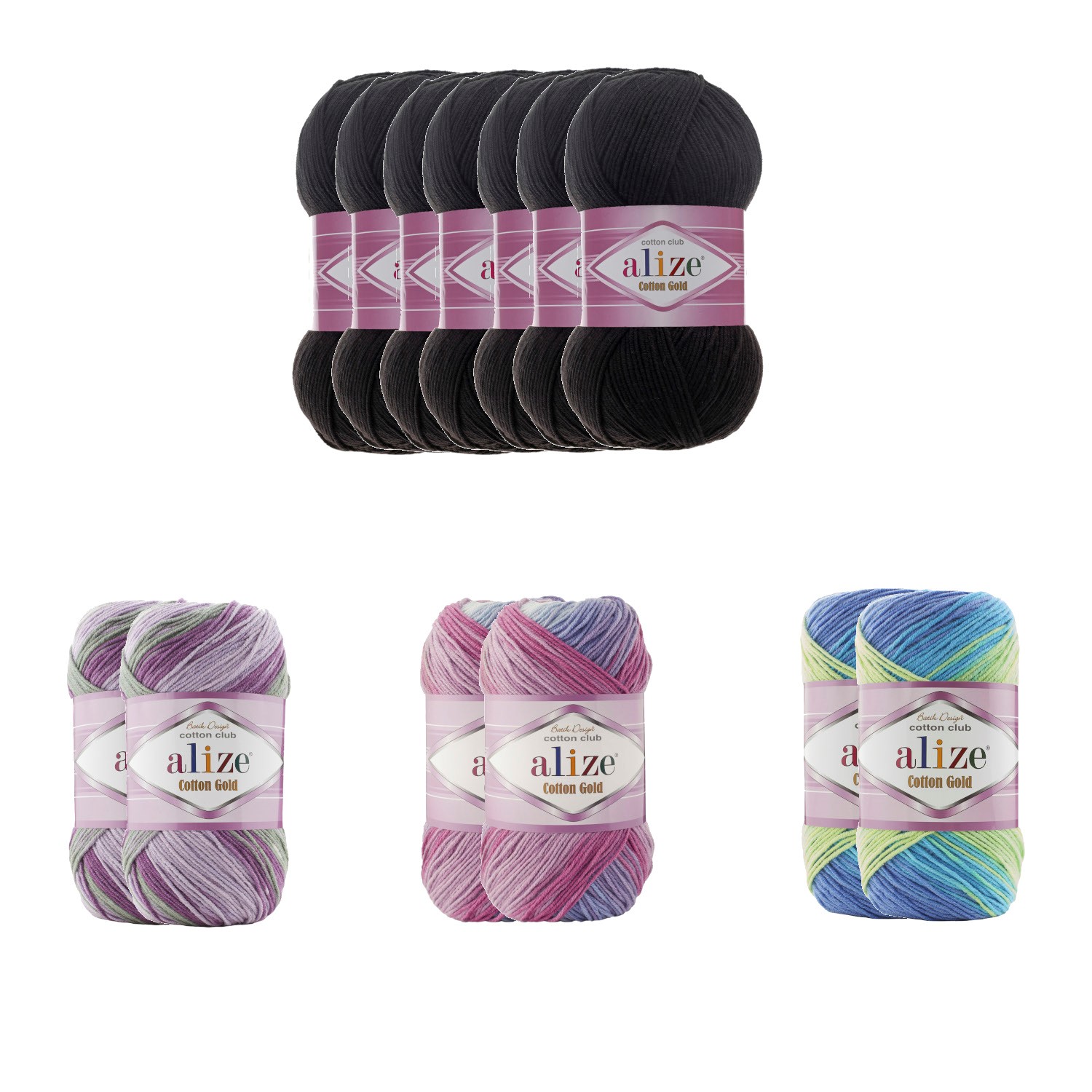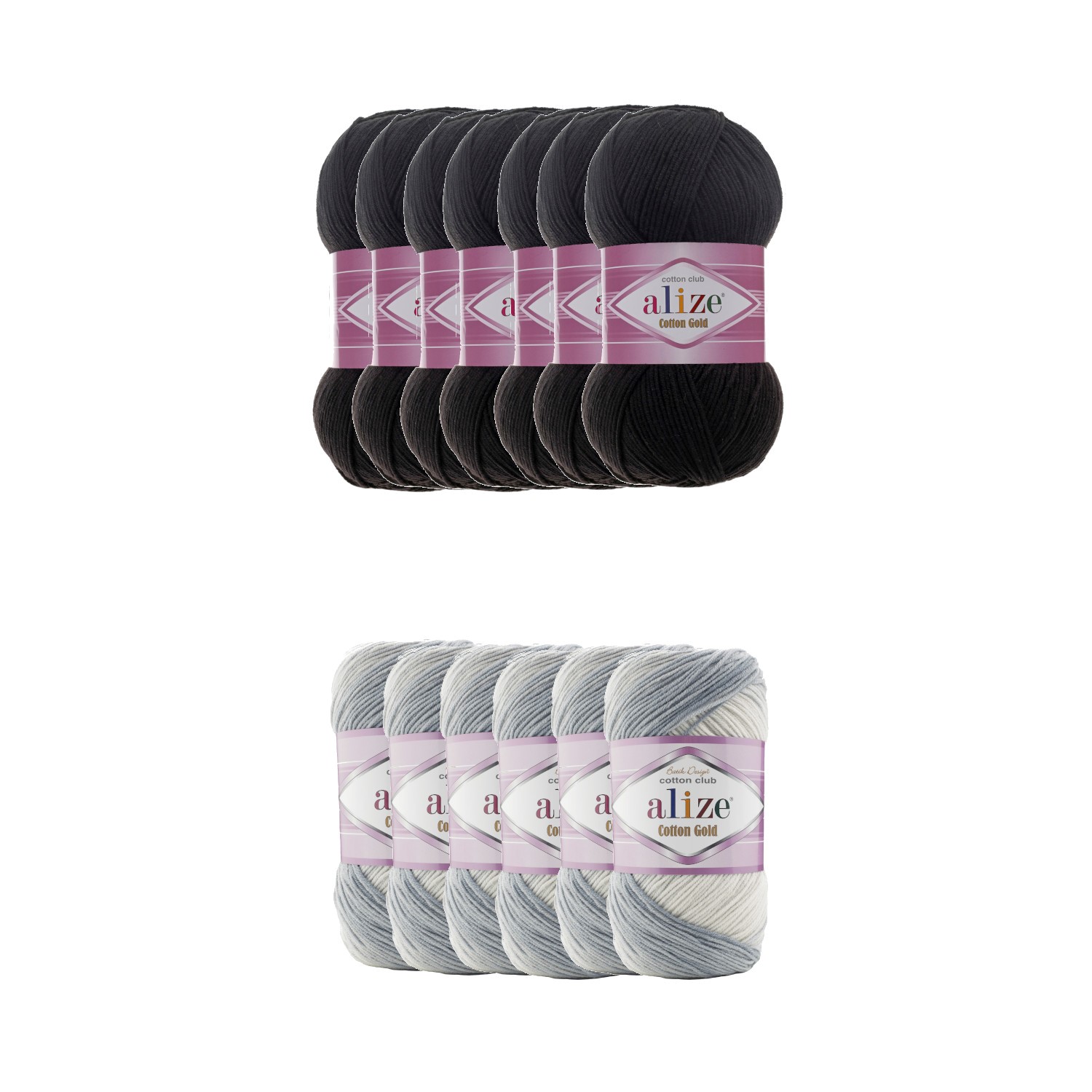 ---
Release schedule
I will publish the parts on the following dates (with reservation). So keep your eye on your mailbox on these dates.
April 27 2023: The practice piece for interwoven crochet (click here) and the practice piece for mosaic crochet (click here). Also the tutorial videos for the practice pieces will be released then.
May 3 2023: layer 1
May 19 2023: layer 2
May 31 2023: layer 3 (a couple of days earlier, since I will be having concerts with my choir in the weekend)
June 16 2023: layer 4
June 30 2023: layer 5
I am wishing you lots of fun with crocheting this blanket!