Roman Tiles for the Scheepjes Stone Washed/River Washed Colour Pack
Here it is: the Roman Tiles pattern, that I designed especially for the Scheepjes Stone Washed/River Washed Colour Pack..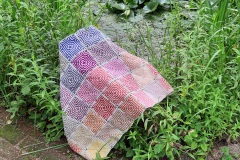 It is made using the interwoven crochet technique it the round, and the blocks are joined right away with the join-as-you-go method. If you click on the picture next to this, you will see the backside of the blanket.
It is not a very large pattern, but the beauty is in the use of the gorgeous colors of the yarn.
You will make 54 'solid' blocks, and extra blocks on each side with the leftovers of the yarn. This makes it extra lively.
---
The Colour Pack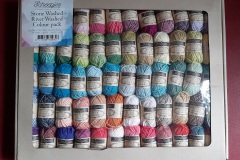 This pack contains 36 balls of Stone Washed and 22 balls of River Washed, that are 10 grams each. I used 54 of these tiny balls. You need 16 balls of Stone Washed, color 801 as a background color.
---
What do you get with this pattern?
1. Of course the pattern charts and the written description
2. A color scheme and instructions to create your own color scheme
3. Suggestions to make changes to the overall pattern, by placing blocks differently (playing with the back and front of the blocks), but also some other suggestions
4. Photo tutorials for the first couple of rows and crocheting the blocks together.
5. Pictures of front and back of each row.
6. The pattern description for crocheting the block from bottom to top if you prefer to do it that way.
And more tips.
With this pattern I do a different start in the middle of the block. I explain this clearly in the videos and the pattern description.
Where to get this pattern
The pattern is available on Ravelry: https://www.ravelry.com/patterns/library/roman-tiles. After purchase you can download it in both English and Dutch.
Videos
I have made videos especially for this pattern, that are public. In these I repeat the techniques that I showed on this website earlier (click here). You can click here for the entire playlist, or look at the bottom of this page.
Playlist
Video 1
Video 2
Video 3
Video 4
Video 5