What happened lately
It looks a bit quiet on my side, and that is correct, that is, publicly. My husband and I are having quite a challenging year. We sold our house and bought another one, and this all in Corona-times. We moved in two steps from the western side to the eastern side of this country. Moving is one of the most stressful activities in a persons life anyway, but add to this a child that became quite ill (and I'm thankful to tell she completely recovered), and Corona, that made a lot of things go down, well, I guess you will have an idea….. Hoping we would not get sick, hoping the house could be emptied, hoping the selling could continue, hoping we could get into our temporary home, hoping the buy could continue, hoping our stuff could get out of storage. Because for every step it was important all parties involved would not get Corona. Believe me, that gave me a lot of broken nights. But, in the end all went well. We have a lovely new home at a lovely spot , and we are very happy with that.
However, this was not the only thing. The health of my parents in law went down quickly, so they had to move to a home where they would take care of them. And then my father in law passed away two weeks ago. Not unexpected, but the weeks before that were filled with traveling a lot from one side of the country to the other. A sad time. And on top of that another big disappointment came along that I find very difficult. I'm very glad my husband and daughters are healthy, and we have a happy family. I'm very grateful for that, but all and all it's been a very stressful and emotional period.
And now further: clustered interwoven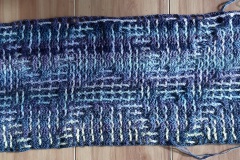 I'm not the type to sit back in a corner (okay, sometimes I am 🙂 ), so we keep courage. And my head is filled with ideas that need to be worked out. I also let myself be inspired by beautiful yarns, who doesn't get happy with a nice ball of yarn 🙂 . One of the ideas that was in my head for quite some time now is being crocheted and worked out as we speak. You can see the front at the start of this page, and next to this text you can see the back. If you look closely, you will see there's something special happening. This is interwoven crochet, but with clusters of double crochets, which why I have called this clustered interwoven crochet. In this case it is also done with treble crochets and larger squares, to get an airy result that makes it very suitable as a shawl or wrap. Actually, it's quite simple, but you can create very nice effects when used in specific places in a pattern.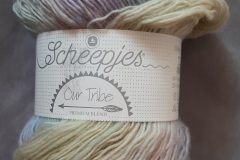 For those that are curious: the yarn I used is Scheepjes Our Tribe in a light and dark color, a variegated yarn.
I will of course be making videos and a photo tutorial. That has all still have to be done, and quite some work, so you need to be patient a bit. If you want to stay updated, then join my facebook group (https://www.facebook.com/groups/HookedAndLockedCALEnglish ) and subscribe to my YouTube-channel (https://www.youtube.com/c/TheCraftsteacher). Use the 'bell' on YouTube, so that YouTube will notify you as soon as the videos will be released.
When I'm ready I will also release the pattern: The Arches. It will be available on Ravelry (https://www.ravelry.com/designers/the-craftsteacher).
Okay, for now I'm wishing you lots of fun with other projects that you will certainly have on your hooks 🙂 .