The HAL CAL 2018 on repeat, now in mosaic crochet
Yep, you're reading this correctly! I will do the HAL CAL of 2018 again. I hope the fans of interwoven crochet will not be too disappointed, because this is not a new design, but because it is for many of us a difficult and even hard time, and there are also people that find interwoven crochet difficult to do, I decided to do this. A couple of months ago I added more functionality to my software, so that I can create mosaic crochet pattern charts and descriptions from my interwoven crochet designs. I was planning on taking my patterns and making them available for this kind of crochet on Ravelry (as patterns to sell), but in this time it looked a nice gesture to you to give away the mosaic version of the 2018 CAL available for free for a certain time.
A superfast CAL
It will be a superfast CAL by the way! I split up the free version into 5 parts. I planned to publish the last part at the end of May, and the first part this week already . This has to do with the fact that we will get our new home at the end of May, so I will need all of my time then for cleaning, painting, and whatever needs to be done, so that half of June all our stuff can come from the storage. I do miss my stuff a bit, to be honest. I won't complain, for I am a blessed person, and all of my loved ones are healthy, and this is the most important!
Front and back side pattern!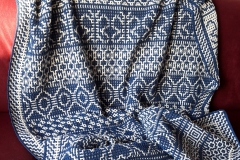 When I was busy with the pattern charts and the descriptions, I remembered from the 2018 CAL, a lot of people liked the back side as well. Some of them even liked the back better than the front.
As you maybe know, when doing interwoven crochet, you automatically get nice patterns at the back. Some look quite like the pattern at the front, other patterns look totally different. With mosaic crochet you will get horizontal stripes at the back of your work in the two colors that you're working with. This gave me the idea to also give you the descriptions and charts for the back side pattern. This means you actually get the patterns of two blankets. And for the creative ones amongst us you could mix them!
Free, but also as a pattern for sale
So keep an eye out here. I have already finished all files, but I do have to work on a separate page where you could download the files for free when they are published. I will put the link here as well when I'm ready!
Edit April 22: here is the link: Hooked and Locked CAL 2018 in Mosaic crochet
I also have this pattern for sale on Ravelry. There you can get the entire file with all pattern parts right away. I have a discount running on all of my patterns of 50% because of the crisis, and that also applies to this one! So if you have a lot of time being at home, and you want to work faster, or you just want 1 complete file, this will be an option for you too. Link to Ravelry: https://www.ravelry.com/designers/the-craftsteacher. The mosaic crochet patterns is called 'HAL CAL 2018 in MoC'.
More info will follow soon!