Hi! The 2nd vlog and blog I made on my vacation address.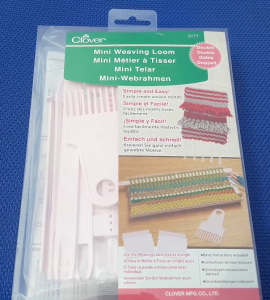 I was in a village or little town, Montesquieu-Volvestre, where we often did our shopping for groceries, and on one of these trips we walked around a bit, and we passed a store where they sold all kinds of household stuff. In the window I saw several crafting supplies, and there I saw this mini weaving loom from Clover. Well, as a person that loves weaving a lot, I couldn't resist to buy it, it just had to be added to my collection 🙂 . The next day I unpacked it at the side of the pool, and I filmed it with my mobile. So again this video is to tease you also a bit with the lovely view 🙂 . I read the instructions, and they were very clear to follow. And assembling was also very easy, you didn't need much force for it. But firm anyway!
I didn't have time to weave on it at my vacation address. I had some yarn with me for the interwoven or locking crochet (see my previous blog), but I didn't find it very suitable to use (although I could have made it suitable, but, okay), and I just had vacation of course and did other things also. I will already give away that I did weave a little piece on it at home, and it worked really fine, but that will come later. I first have to publish some other video's! This will be continued! If you subscribe to my YouTube channel (The Craftsteacher) you will definitely see it coming around. And if you just want to give it a try, I found the instructions for weaving with it (in English, German, French and Spanish) quite clear, so you just give it a shot yourself.
Have fun with the vlog: