Pages of this tutorial
This tutorial is split up in several parts.
Videos
I also made some videos for this tutorial. Click in the list below or look at the end of this page:
Practice piece and gauge swatch
This practice piece will also serve as a practice piece for the Hooked and Locked Cal of 2022! It is meant for practicing, but also to measure the yarn usage and the size of your work. I will use this as a reference for other projects also.
The pattern
Download the pattern here (click on this).
Yarns and hook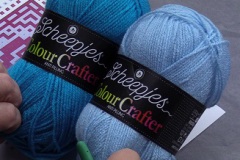 For this tutorial I used Scheepjes Colour Crafter. For the video and the pictures here you see the colors 2012 Knokke (dark blue) as color 1 and 1019 Texel (light blue) as color 2. I'm using crochet hook 4.5 mm for this, 1 size larger than recommended on the ball, to get a flexible result.
---
The setup
The setup is just like regular interwoven crochet, because I don't do solid squares in my patterns at the sides. I won't dive deep into it here. Look at the tutorials here on the website and at the videos on my channel. Or look at this video where I use the same setup for my christmas table runners and where I show this in detail if you're not very familiar with the technique yet: https://youtu.be/CrTIEQpMLDU. The first row where we will do solid squares is in row 2a.
The rows 0a to 1b
I show here and on the next pages some pictures (screenshots from the videos) of the setup to row 3b. Click on the pictures to see them fully and full size.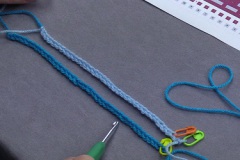 I always place markers into the stitches where the first dc will be made. The setup of row 0a is 37 chains, with a marker into stitch 35, and the setup of row 0b is 35 chains with a marker into stitch 33. Especially for crocheting row 1b the use of the marker is very handy, because counting back stitches from the hook is often hard to see.
---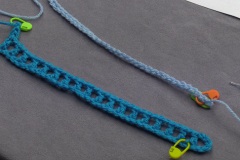 I'm using the weaving through method here (see the video), so I first make all the squares (18 in total).
---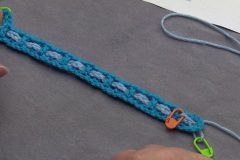 After this I weave the setup of color 2 through, following the instructions for row 1a.
---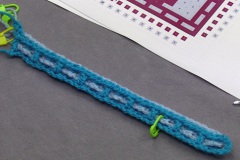 In row 1b all dc's are made at the back.
---
Click here to go to the next page, where we will start with the solid squares.
Videos