Trick for easy grabbing the sideloops
Sometimes it can be a little bit difficult to get a sideloop on your hook. What I sometimes do in that case, is putting my hook through the loop just below the nail. I also pull the yarn through downwards first, and then bring the hook, with the loops, to above the nail to finish the stitch further.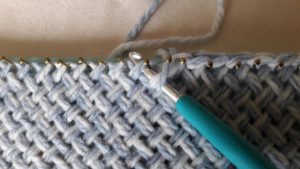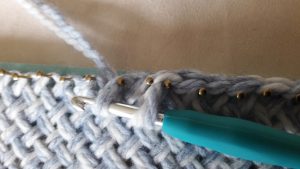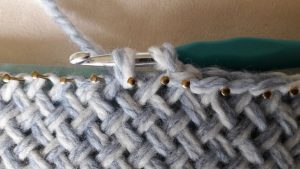 ---
Corner B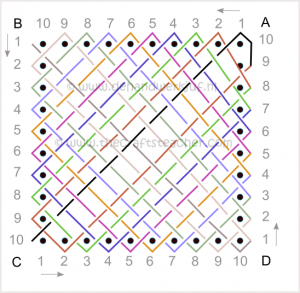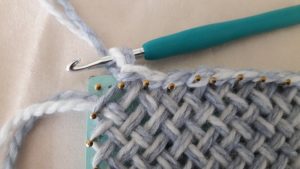 You have now reached the last nail (nr 10 in the drawing). The last stitch through sideloop 9 is made, and now you have to do 1 more slip stitch, if you want 10 stitches on this side. And that's exactly what we want!
---
Because you have no loop in corner B to work through, you will make a temporary loop there, by working the end of the yarn into the weave a bit, around the corner nail. It doesn't really matter how you do that, because, when finishing your weave, you will take it out again, it is purely for having a loop that you can crochet through!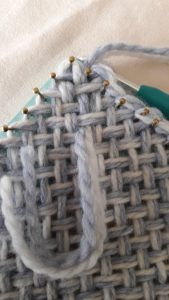 ---
Now make a slip stitch in corner B: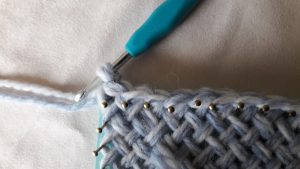 This is the first slip stitch in corner B, which is also the last stitch for this side.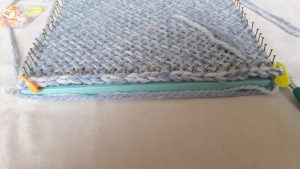 On this picture you can see that I made 24 stitches on my loom. If you have a loom with 10 nails, you would have seen 10 stitches here. You count the stitches by counting the number of V-shapes. In this picture the first stitch is marked with an orange stitch marker, and the last stitch with a yellow stitch marker.
---
Now make the second slip stitch in corner B: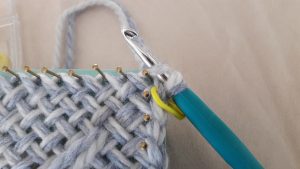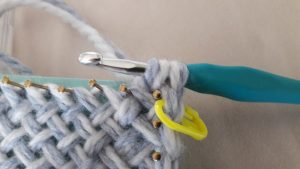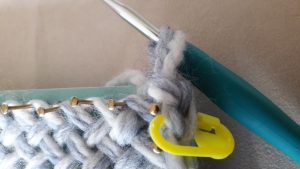 ---
Mark the first stitch of this side with a stitch marker: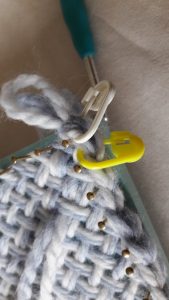 Now again make stitches in each sideloop until you have come just before corner C.
Go to the next page for an explanation how to deal with corners C and D.