What is Tāniko?
I won't go into detail elaborately what Tāniko is exactly, for that I would advice you to get the books written about it. I actually want to focus on the technique, but I will give a short introduction what it is.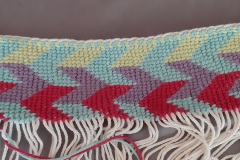 Tāniko (this is the official way to write it, but you will also find it under Taaniko), is a finger weaving technique that's developed by the Maori people in New Zealand. It is among other things used for traditional clothing, often as a border, because the weaving actually creates quite a stiff cloth.
You don't need a loom for Tāniko. You can hold the cloth in your hand while weaving, but for larger pieces tools can be used to make the weaving more manageable.
By the way: the border in the picture here doesn't like straight. In real life it is…… 🙂
How did I discover Tāniko?
I was browsing in the Weaving group on Facebook, and there I saw a video of a woman making a very beautiful cloth. It wasn't clear to me what she was doing exactly, it went quite fast and actually my first thought that she was doing something that kind of looked like doing alpha-patterns for friendship bracelets But it turned out to be something different: Tāniko. I couldnt'find very much on the internet about it, except for a course that could be followed, but I did find a webpage that recommended a couple of books. I then bought 3 books (still waiting for the third one to arrive) and started following the instructions. I really enjoyed doing it, you can pick this up fairly quickly, and I started getting a lot of ideas to use this. I also read that the technique is not very well known (what I found out also when I was searching for it on the internet), and it breaks my heart when there's a chance that a beautiful old technique, in whatever art of craft, would disappear. So I decided this would be a fun subject to create tutorials for.
How does Tāniko work?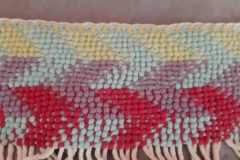 Tāniko is twisting several colored threads around each other, where 1 color stays on top of the weaving, and the rest at the back. The threads that are being twisted are the weft threads. They are held in position by the warp threads. By switching which colored thread gets on top of a warp thread, you can create beautiful patterns.
Relation with other techniques
Tāniko is a bit related to twining, where you also twist threads around each other, but personally I find it more related to card weaving.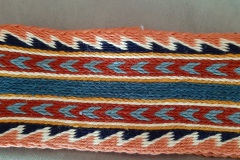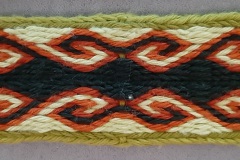 I found it a bit peculiar that the link with card weaving wasn't made in the books. Because the authors maybe were not familiar with card weaving? Well, it doesn't matter, for me the card weaving light went on when I saw what I was actually doing with the threads. With card weaving you have a card with 4 (or sometimes more) holes, where you put 4 strands of yarn through. I will not go into detail here elaborately about card weaving, but by placing a series of cards next to each other, and by twisting these cards as a set or individually, you also get very nice patterns. Where the cards are used in the warp, and the color that gets on top is 'anchored' by a weft thread, Tāniko actually does the opposite: the weft threads are twisted, and the color that has to go on top is anchored by the warp threads. I hope to one day have the time to create a tutorial about card weaving, so that you can see the difference. What is slightly different with Tāniko , is that the threads are pulled so that the patterncolor stays on top, this is not done with card weaving.
The pictures you see here are bands I made doing card weaving. The patterns are from the book Card weaving from Candace Crockett.
Basics and room for creativity
In the following tutorials I will show how to cast on with two or more colors, how to weave, and how to finish the weaving. So the basic steps. I will also show some variations with it. It's a technique that you can unleash your creativity on. You can create all kinds of patterns, play with color, play with spacing in the warp threads which creates a more airy result, work with different kinds of materials. You name it. Because I thought of the relationship with card weaving, I figured that some techniques can be translated to Tāniko as well, so I hope to work that out as well.
Where can you find the tutorials?
Look here on the website in the menu under Weaving – Tāniko for the different subjects. I will add new tutorials regularly. And of course I will make as many videos as possible to accompany them. You can take a look at them on my YouTube channel: https://www.youtube.com/c/TheCraftsteacher. Or go to this playlist: https://www.youtube.com/playlist?list=PL0tHWoXKpGCRcg2styl4lthrw6W06SscL